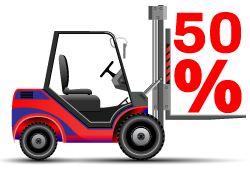 ATTENTION – PRICE DROP!!!
Prices are rising, ours are falling!!!
Our prices are reduced by 50% now!!!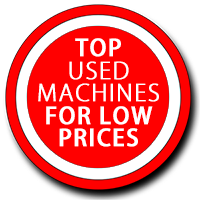 This is our current stock list featuring used machines, tools and more available for immediate delivery.
If you look around a little, we are sure you will find something that fits your production needs. It doesn't always have to be an expensive new machine, because we all know that every new machine was manufactured by used machines.
CURRENT STOCK LIST



---
Stock-#
Machine Type
Manufacturer
Model
Mach.-Nr.
Size
Year of Constr.
Regular
Price (€)
Reduced
Price (€)
Link

Cylindrical Grinding Machines

1865
Universal Cylindrical Grinding Machine
WMW - Reinecker
SU 240×800
02910
800 mm
???
5.800,-
2.900,- BN
View Offer
1841
Universal Cylindrical Grinding Machine
MSO
FFM-U 130/1000
16219Mv12438
1.000 mm
???
4.750,-
2.375,- BN
View Offer

Surface Grinding Machines

1913
Surface Grinding Machine
JUNG
G 60
14508
600 mm
???
2.850,-
1.425,- BN
View Offer

Hacksaws

1836
Hydr. Hacksaw
Kasto
EBS 320 U
273463
Ø 320 mm
???
3.650,-
1.825,- BN
View Offer

Manual Spindle Presses

1864
Electro.-Pneum. Hot stamping press with round table, 6 stations
Gierlich
PE600
05437
600 kg
???
4.850,-
2.425,- BN
View Offer
1885
Two-Pillar Manual Spindle Press
Hiller & Lutz
HILU HP 70
1047
ca. 25 t
???
2.650,-
1.325,- BN
View Offer

Sheet Metal- & Profile Steel Shears

1911
Sheet Metal- & Profile Steel Shear with notcher and punching press
MUBEA
KBL 11
107/3019/7
ca. 35 t
???
2.750,-
1.375,- BN
View Offer

Other Machines & Devices

1835
Profile Projector
ISOMA
M 108 A
866477
Ø 85 mm
???
4.680,-
2.340,- BN
View Offer
1909
Tool presetter
Zoller
V 520
210/620 mm
2000
3.850,-
1.925,- BN
View Offer
1445
feeding device / work-piece-organizer
Feldpausch
OA 45-L
3/L
1990
2.950,-
1.475,- BN
View Offer
1803
Industrial extraction system
NESTRO
NE 160
1041
1.780 m³/h
1994
2.180,-
1.090,- BN
View Offer
If the year of construction is marked "*", it is the information the prior owner relayed to us or our own estimation.
---
We hope that you have found something useful in our stock list.
All machines can be inspected at our warehouse prior to buying.
If not seperately negotiated, we reserve the right to prior sale.
All technical data, information and pictures on this website are non-binding. Errors excepted. The prices are in Euro (€) and  will have an additional 19 % tax added (German "Mehrwertsteuer/Mwst.") on your invoice. Buyers from foreign countries will pay the net price without an additional tax, if they provide us with their Ident.-Nr.. All prices are ex-works, without packaging or delivery.
The machine will be loaded on a truck free of charge, provided you pick it up at our warehouse. The buyer bears the cost of packaging and delivery. Packaging is done only after the buyer has signed a sales contract.
We would love to hear from you!
With best wishes from Sprockhövel…
ProHa Machines