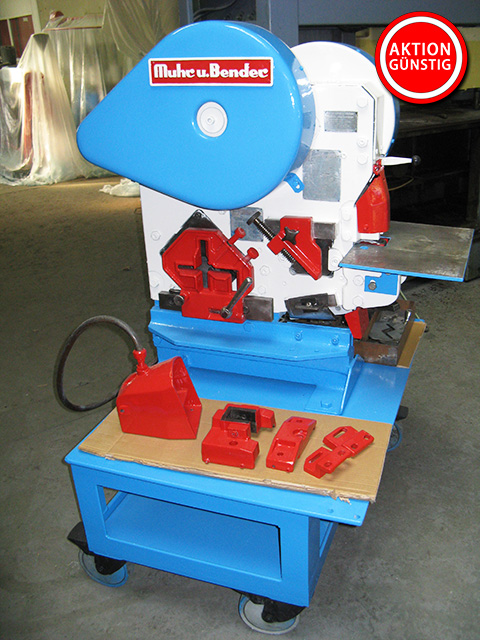 [printfriendly] (Print This Offer)
Sheet Metal- & Profile Steel Shear with Notcher & Punching Press Mubea Junior BF10
manufacturer: Mubea
type: Junior BF10
size: 10
mach.-Nr.: 163 / 29719 / 1972
year of construction: 1988* / 2014 tüp.
comm.-Nr.: 3990550/009
Special Fixed Price: 2.673,- €
Current lack of space due to warehouse reconstruction!!!
All Prices drastically reduced by 55%!!!
Technical Data

Flat Steel Shear

blade length: 180 mm
sheet metal up to: 10 mm
flat steel up to: 100 x 12 mm
Profile Steel Shear

angle irons up to: 80 x 8 mm
T-iron up to: 70 x 8 mm
hubs: 35 / min.
Steel Bar Shear

steel bars up to: 35 mm
square steel up to: 32 mm
Notcher
sheet metal up to: 8 mm
notcher width up to: 40 mm
notcher depth up to: 55 mm
Punching Press

punching performance: diameter 15 in 10 mm
weight: ca. 800 kg
standing area: 1,05 x 0,75 x 1,50 m
color: blue / grey-white/ red
Features
constant stroke or single stroke
hand or foot switch
punch press device
notching tool
working table 400 x 280 mm
various punching tools in different sizes
movable frame
If the year of construction has a "tüp."-date, that means the machine has been electrically and technically inspected by us on that date and it will be inspected again before leaving the warehouse for delivery.
If the year of construction has a "tüb."-date, that means the machine has been partially overhauled on that date according to the prior owner.
If the year of construction is marked "*", it is the information the prior owner relayed to us or our own estimation.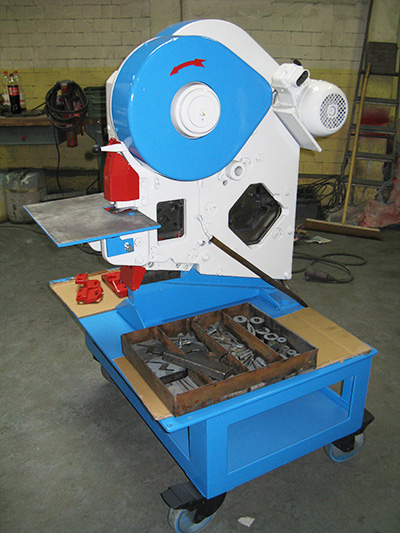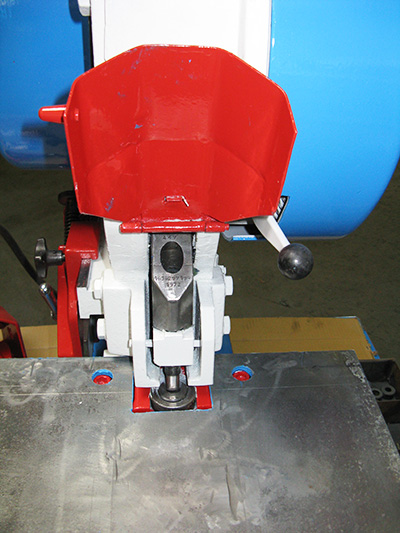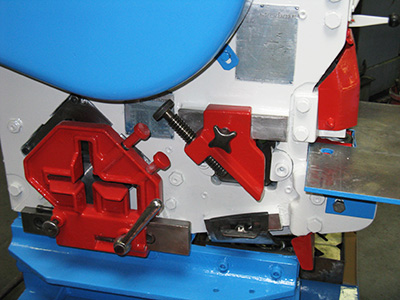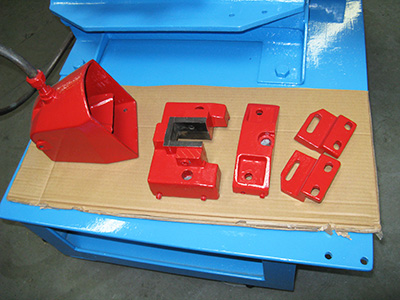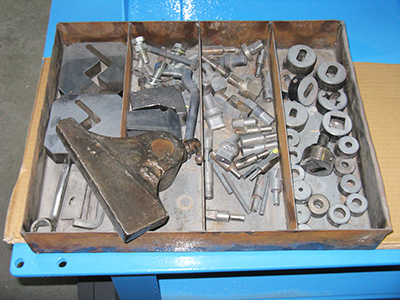 Der angegebene Preis versteht sich zzgl. 19 % MwSt., die in der Rechnung gesondert ausgewiesen werden. Käufe aus dem Ausland sind selbstverständlich netto, ohne Mwst., wenn Sie uns Ihre Ident-Nr. bekannt geben.
Preisstellung ab Werk, unverpackt, frei LKW verladen, Fracht unfrei.
Die Verpackungs- und Frachtkosten tragen Sie als Käufer. Die Maschine wird von uns kostenlos verladen, jedoch unverpackt. Verpackung erfolgt ausdrücklich nur mit schriftlichem Käuferauftrag.
Achtung, Wichtig!!!
Sollten wir den Spediteur mit dem Transport Ihres Artikels beauftragen, so geschieht dieses absolut im Auftrag des Käufers und muss auch von dem Käufer bezahlt werden. Für entstandenen Schaden während des Transportes oder beim Entladen übernehmen wir keine Haftung. Mit Ihrem Kauf haben Sie diese Bedingung anerkannt.
Angaben und technische Daten sind unverbindlich, Irrtum vorbehalten. Der Verkauf unterliegt ausschließlich unseren allgemeinen Geschäftsbedingungen, die Sie einfach hier anklicken können.