[icon name="file-pdf-o" class="" unprefixed_class=""] Print offer
---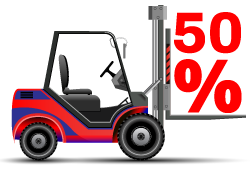 ATTENTION – SPECIAL OFFERS NOW AVAILABLE !!!
OUR

PRICES

ARE STILL IN THE SUMMER LOW !!!


OFFERS ARE CURRENTLY REDUCED BY 20% !!!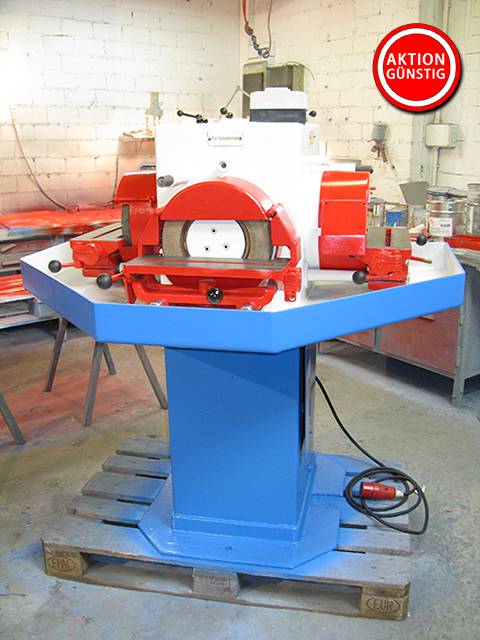 Tool- & steel grinding machine Birker Duxa T3
manufacturer: Birker
type: Duxa T3
year of construction: ??? / 2015 tüp.
comm.-nr.: 3990029/839
stock-nr.: 1793
Special Price: 900,- €

|

now 585,- € net +++ SOLD +++

technical data

grinding wheel size: 300 Ø x 50 x 110 Ø mm
grinding wheel keyway: 180 Ø x 30 mm
grinding wheel working width: 60 mm
grinding speed: 22,5 m/sec.
size of supporting tables: each 400 x 170 mm
pivotable forwards and backwards: each 15°
drive power: ca. 2,5 kW
weight: ca. 500 kg
standing area: W 1,30 x D 1,00 x H 1,60 m
color: blue / grey-white / red
features
3 grinding stations
3 tilting- and folding tables
3 motors
3 protective covers, adjustable
solid stand-machine
If the year of construction has a "tüp."-date, that means the machine has been electrically and technically inspected by us on that date.
If the year of construction has a "tüb."-date, that means the machine has been partially overhauled on that date according to the prior owner.
If the year of construction is marked "*", it is the information the prior owner relayed to us or our own estimation.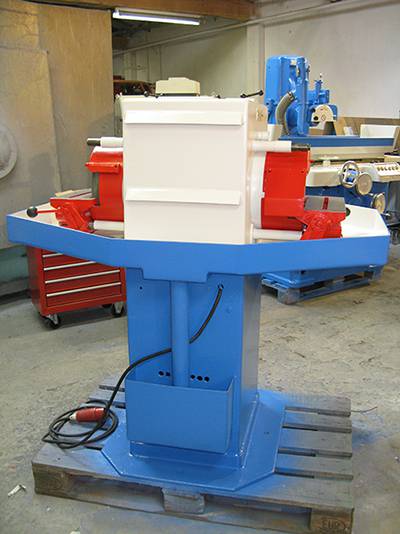 All prices will have an additional 19 % tax added (German "Mehrwertsteuer/Mwst.") on your invoice. Buyers from foreign countries will pay the net price without an additional tax, if they provide us with their Ident.-Nr.
All prices are ex-works, without packaging or delivery. The machine will be loaded on a truck free of charge, provided you pick it up at our warehouse.
The buyer bears the cost of packaging and delivery. Packaging is done only after the buyer has signed a sales contract.
Attention – Important!!!
If you want us to facilitate the shipping with an external contractor, this will be done on behalf of and paid for by the buyer. We are not responsible for transport or unloading damage. By buying from us, you automatically agree to these terms and conditions.
All information and technical data on this website is non-binding, errors excepted. All sales are subject to our Terms and Conditions, which you can find here (German only).
---
[icon name="file-pdf-o" class="" unprefixed_class=""] Print offer