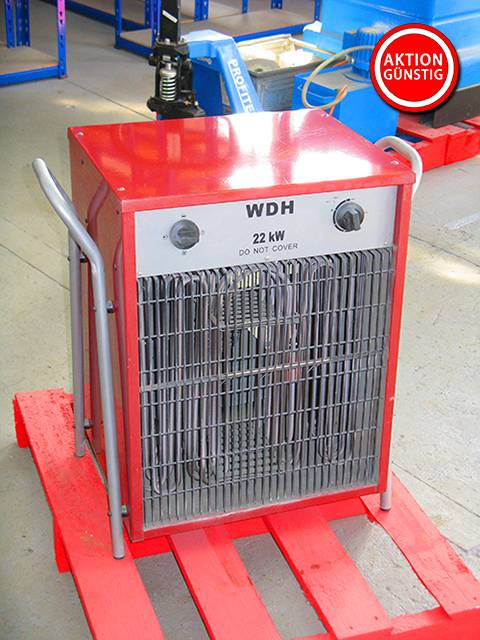 [printfriendly]
(Print This Offer)
X

Attention

!!! – – – Special Offer !!!
X Our Prices

are

reduced by 20%
X until 31.03.2016 !!!
Electric fan heater Aktobis AG WDH-IFJ04b (max. heat output: 22.000 watts / 22 kW)
manufacturer: Aktobis AG
type: WDH-IFJ04b
year of construction: in use for 1 winter only
comm.-Nr.: 3990330/009
stock-nr.: 1788
+++ SOLD +++





Technical Data

voltage: 400 V – 50 Hz
connection: 32 A
power: max. 22 kW / 32 A
2 heat settings: 1 up to 11 kW / 2 up to 22 kW
thermostat: infinitely adjustable 0 up to ca. 40° C
air flow: ca. 2.650 m³/h
protection class: IP24 = foreign object- and spray protection
weight: 24 kg
standing area: W 590 x D 365 x H 620 mm
color: red / silver
Features
heat output adjustable up to 22.000 watts / 22 kW
thermostat for regulating and setting the desired temperature
2 heat settings available: Setting 1 up to 11.000 watts / Setting 2 up to 22.000 watts
pure ventilation mode without heating function available
suitable for continuous operation
overheating protection
infinitely adjustable temperature setting from 0 up to ca. 40° C
integrated overheating protection and reset function
no reset on power loss – the device picks up its work where it was interrupted
low noise level
no oxygen is used up by the machine
GS + CE certified device
If the year of construction has a "tüp."-date, that means the machine has been electrically and technically inspected by us on that date.
If the year of construction has a "tüb."-date, that means the machine has been partially overhauled on that date according to the prior owner.
If the year of construction is marked "*", it is the information the prior owner relayed to us or our own estimation.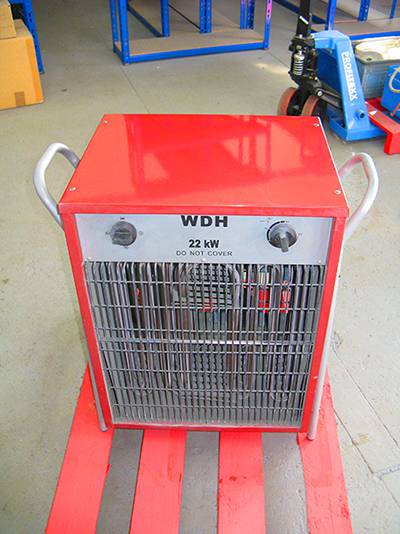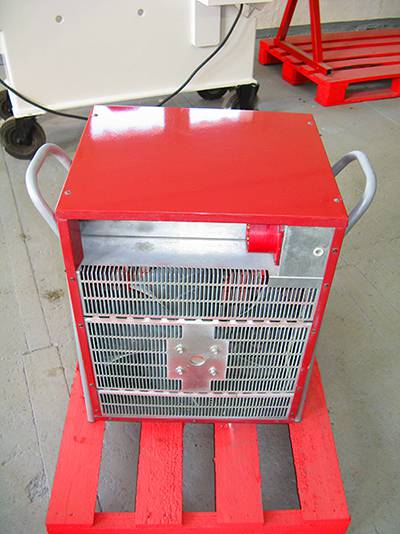 All prices will have an additional 19 % tax added (German "Mehrwertsteuer/Mwst.") on your invoice. Buyers from foreign countries will pay the net price without an additional tax, if they provide us with their Ident.-Nr.
All prices are ex-works, without packaging or delivery. The machine will be loaded on a truck free of charge, provided you pick it up at our warehouse.
The buyer bears the cost of packaging and delivery. Packaging is done only after the buyer has signed a sales contract.
Attention – Important!!!
If you want us to facilitate the shipping with an external contractor, this will be done on behalf of and paid for by the buyer. We are not responsible for transport or unloading damage. By buying from us, you automatically agree to these terms and conditions.
All information and technical data on this website is non-binding, errors excepted. All sales are subject to our Terms and Conditions, which you can find here (German only).